Quickbooks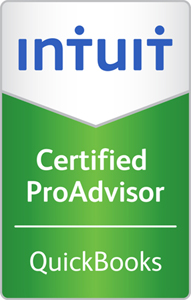 Thinking about Quickbooks,
Committed to Quickbooks,
Confused and Frustrated with Quickbooks.

Whatever the answer you are in good company. Quickbooks and other small business accounting systems can be your best friend if they work right, or your worst nightmare if they don't.

You don't need Quickbooks, or any other software for that matter, to work with us. We have a proprietary software system that we generally use to aggregate and report your financial information. We have software that can run at your site or we can use your Quickbooks information.

If you are using Quickbooks as a primary accounting package we have a certified Quickbooks Pro Advisor on staff that can help. We can take over for you, do monthly reviews of your Quickbooks installation, have you send us a copy of your data to update or log-on to your system and do complete updates. As always our goal is to help you run your business better.



Want more Information? Give us a Call.